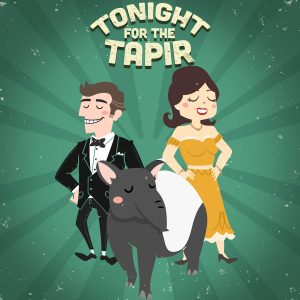 Over at Combustion Collective, I've been working on an awfully silly new play, and I'm so excited to share it with you today! Tonight For The Tapir is the Collective's third full-length project, and it's a bit of a departure for us. Unlike Ephemera and The Floorshow, this piece a relentlessly whimsical comedic romp.
Tonight For The Tapir stars Jeff & Avi as alter egos of themselves: world-famous sibling entertainers who have reunited after many years of estrangement to host the first annual International Tapir Institute Telethon. If you ever wished for a show that was the zany love child of the Jerry Lewis MDA Labor Day Telethon, and an early episode of The Muppet Show… you've come to the right place.
Since we were not able to have an invited developmental reading of this project, we decided to record the piece as a radio play. This 4-episode radio play edition is most definitely still in development, (and features Avi's very first attempt at editing audio!) but I am excited to be sharing this zany piece with you all at the end of a very tiring year.