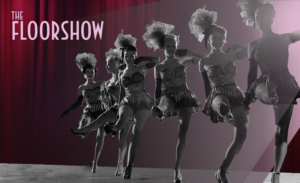 In case you haven't been following along elsewhere, The Floorshow is a passion project of mine that I've been working on for the last couple of years.
The Floorshow is an original play with music and dance that explores the way we react to events in our own lives and the lives of those closest to us. The play asks us to examine our own reactions to adversity as a group of women grapple with the tenuous nature of female friendship.
This play, written by Dann Berg and Avital Asuleen, was originally conceived as a response to the ongoing deficit of well-rounded female roles in contemporary theatre. According to the 
NY Times
, only 40% of Off-Broadway Speaking roles currently go to women. The Floorshow provides six fully realized female characters to women who more often than not find themselves playing the third chorus girl to the right.
The Floorshow will have an AEA showcase production this fall – September 26th-29th – at Theatre 71 in New York City. Tickets are currently available through certain tiers of our
Crowdfunding Campaign
 and will also be available to the general public August 1st.